Below I am writing Difference Between Windows 10 vs. Windows 11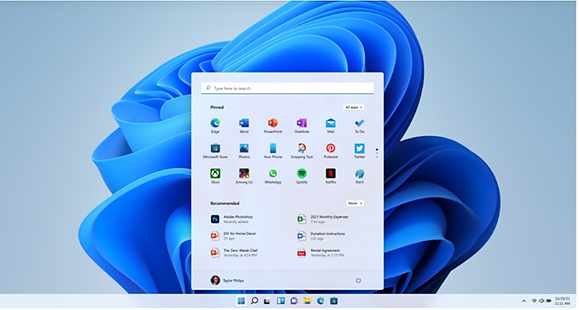 Windows 10
Last generation of Windows which launched on 15th July 2015. Introduced a completely new browser Microsoft Edge. Multi-tasking features like in the Android Operating system and touch-based functionality.
Through software updates Window 7 and Windows 8 user can easily update to the latest Windows 10. Minimum system requires Intel Core I Series 4th generation processor or later, 2GB RAM and 32 GB Storage
Windows 11
Latest version of the Operating System launched on 24th June 2021. Microsoft has taken inspiration from Android or the MacOS to make everything connected within one account only.
For installation require higher system configuration to run like a 4 GB RAM, 64 GB Storage and Intel Core I Series 8th generation, AMD Zen+ series, and late. Also, it requires TMP 2.0 for effective trusted platform modules.
Key Differences Design and Interface
Windows 11 mainly focused on bringing the Android-like experience with various multi-tasking and interactive UI (User Interface). The design and interface layout of the Windows 11 is much advanced of the previous Windows 10 But Windows 11 creating a macOS experience. Windows 11 allows users to allow more personalization features. There are new icons, gestures, and a new start button as well.
Virtual desktop support Improved
Users can now access the files on their virtually from anywhere. Windows 11 will create more deployment and editing features for virtual desktop support It allows the users to use their computer which is away from them by actually accessing it from another device.
Improved Widgets
Windows 11 brings a new widgets tab with all types of information in form of interactive cards like weather, photos, news, music, and maps. Widgets are not new in Windows 11 as they came from Windows 7 only
Android App Integration
Amazon app store has integrated itself with the Windows store so that users can their Android applications on their PC. Windows 11 allows users to run Android applications on their Windows computers. Users can run the same applications that they use on their phone now on their PC, for effective synchronization techniques. This is the same feature that Apple users on their Mac devices for creating the Apple ecosystem.
Support for Voice, Pen and Touchscreen
Windows has improved support for touch and stylus support in Windows tablets. Also be used via voice, touch, or styles. The tablet mode can also be used in the PCs for the touch mode and stylus mode.
Performance Improvements
It brings great battery life at a high-performance time good optimization of the system apps in the background. Windows 11 has major performance improvements from Windows 10.
Gaming Upgrades
Windows 11 also has a completely new Xbox app. Xbox also allows users to stream their gaming on other social media platforms like YouTube and Twitch. Dedicated features for gaming like Direct Storage and Auto HDR for improving graphics quality.
Replacing Skype with Teams
Windows 11, Microsoft has replaced Skype with Teams and made it the default app. In Windows 10, the main application for video conferencing was Skype which had to be installed separately. Microsoft Teams is deeply integrated with Windows 11.
Redesigned Microsoft Store
The new Microsoft Store is launched on Windows 11 and it has a applications and games in it. Integration with the Amazon store, it has now android applications. It has a completely new design that matches the Mac Store.
Snap Layouts
In Windows 11 we can do various multi-tasking features in this version can also do changing the layouts of the applications. Windows 11 has new features for snapping the layouts of the windows too.
Read It Also : Chhattisgarh MP List 
Difference Between Windows 10 vs. Windows 11
Windows 11
Wondows 10
Released on 24th June 2021
Released on 15th July 2015.
Based on macOS functionality.
Based on Android functionality.
Windows can install iOS, Android
and Windows apps
Install only Windows apps from the store.
Runs on devices with TPM 2.0
Runs on devices with TPM 1.2 or above
Only Runs On Devices With A
Minimum 4GB Ram And 64 GB Storage
Only runs on devices with a minimum 2GB RAM and storage
Only Runs On Intel Core I Series 8th Generation
AMD Zen+ Series Processors Or Higher
Only runs on Intel Core i Series 4th generation series processors or higher
Start Menu To The Center Of The Screen
But It Can Be Changed.
Start menu to the left of the screen
Integrated Microsoft Teams Within
It And There Is No Separate App In It.
Microsoft Teams is a separate and need to be installed separately
Faster Unlock Timing And More Efficient
Performance
Introduced unlock features the first time, so they were not as effective as Windows 11
Continue The Support Version For Windows 11 Till The Next Versionn Is Launched.
Microsoft will end the Windows 10 support 10 in 2025.
Related Post